Our Products
Heating Cooling Dry Block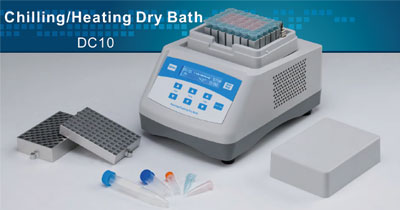 The DC10 Chilling/Heating Dry Bath is compact, versatile, reliable and easy to use. It is adopted high quality Pelties plate to ensure long-term stable operation and controlled can be widely used in preservation and reaction of samples, DNA amplification, electrophoresis denaturation and serum solidificatiopn etc.
Features
Energy-efficient Peltier design.
Automatic fault detection and buzzer alarm function.
Electronic calibration. User can reset to any local standard.
Small, compact size uses very little bench space.
Easy replacement, cleaning and disinfecting of metal blocks.
Microwave Synthesis System with Ultrasound and UV light
Technical Parameters: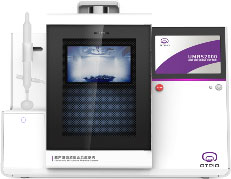 Model No.: XO-SM100;
Ultrasonic Power: 0~1000W;
Ultrasonic Frequency: 25KHz;
Microwave Power: 0~1000W;
Microwave Frequency: 2450MHz;
Handling Capacity: 0.5~800ML;
Probe Diameter: Φ10;
Key Features:
XO-SM50 Series Ultrasonic Microwave Combined Reaction System has the feature of flexible combination which the ultrasonic or microwave can be independently controlled and collaborate;
Adopting SAMSUNG Microwave Generating System, steady performance, microwave power adjustable, frequency: 2450MHz;
Ultrasonic power adjustable, frequency: 25KHz, ultrasonic frequency selective range:15~40KHz; the ultrasonic generator is no need to put into samples, but energy is transfered by air,and work directly to samples;
Optional matching vacuum pump to remove moisture, suitable for ultra-low temperature mircowave vacuum drying experiments, or liquid reaction experiments that require eliminating water vapor or other reactant gas;
Optional Teflon Digestion Tank with temperature or pressure control and magnetic agitation;
Reaction vessel may optinal match the unique designed cold water linking apparatus,temperature control: -40~500℃, it controls the high temperature that caused by microwave emission, microwave utilization ratio can be reached 100%, so reactant will be fully effected, ensuring the homogeneity and high yield of reaction product;
Parameters are controlled using high sensitive touch screen, all parameters programmable control, five groups experimental data storage;
With 10 inches ultrathin, high definition, multi-function liquid crystal displayer, showing the working condition in real-time;
With high precision gold-plating PT100 armored thermocouple sensor or non contact IR Sensor detecting the reaction temperature real time, enable to control the reaction process temperature; control range: 0~500℃, precision: ≤±0.5℃;
With the function of particular Inverter Blast Heat Dissipation, keeping temperature in chamber uniformity;
Work hour: continuous, 0~9999S adjustable;
Programmable Microwave, Ultrasonic system, temperature, time, power are adjustable at the same time;
Optional glass container, teflon materials reaction system;
Ultrasonic Bath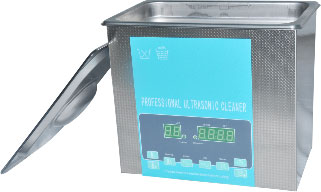 Price: Rs. 18000/- TAXES EXTRA
Make: LABINS
Model: UB3
Operating frequency: 40 KHz
Tank Capacity (Liters): 1.2LTR/3 LTR/6LTR/10LTR
Internal tank stuff: SUS 304 #1.0t
External stuff: Steel plate toast paint
LID cover stuff: Stainless steel SUS 304
Timer: 1-99min
Ultrasonic power: 50/100/200 W
Heating Power: 100W
Net weight: 2.9kg
Drainage: - - Have
Power source: AC100~120V/AC220~240V 50/60Hz.

Sample Concentrator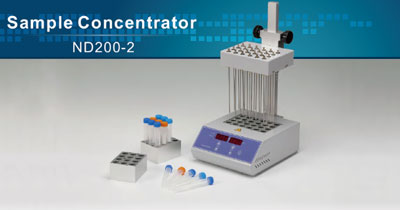 ND200-2 Sample Concentrator is with microprocessor controlled and PID fuzzy controlled technique. Instead of traditional water bath device, the heat-conducting medium is high purity aluminum. The Test tubes are held in a block, and blowing a large number of samples at one time. It can be used in residue analysis, commodity inspection, food, pharmacy and biological product and other industries.